Welcome to New Bedford, a place rich in history. A booming up and coming neighborhood with a great deal of personality, charm and pleasantries.  The neighborhood was birthed circa 2006 as an expansion of South Williamsburg. When young"hipsters" settled, natives were forced to move because they weren't able to afford the now expensive rent.  Over time, the streets were newly paved, libraries renovated and traffic lights updated.  Now it's the talk of the town and has been featured as one of the new places to live for Hopeful 20 Something year olds, trying to make it in this world.
I'm fed up. New Bedford is the moniker for what used to be Bedford Stuyvesant before it was gentrified.  First and foremost let me say I am not (entirely) against gentrification.  And  it's not an issue exclusive to Brooklyn.   Uptown in Harlem, has experienced gentrification as well-high rise apartments are being built with rent starting at $2200.  Starting?!  A recent study shows that between 2000 and 2012,  rent throughout New York's five boroughs has increased about  40%.  Rent in Crown Heights went from an average of $725 /month  to $1,028,/month,  a 41.7% increase.  Rent in the Lower east Side/Chinatown  has experienced ch  a 42.8% jump.  But the biggest leap that I've seen comes from the gentrification Mecca, otherwise known as Williamsburg.  During Y2K, rent in Williamsburg was $737.  Fast forward to 2012, rent is a whopping $1,297 which is a staggering 76.1% increase.  Meanwhile, the apartments have gotten smaller which means less bang for the buck.
I can admit that there are some positives to what's happening. New venues like restaurants and bars have been established, which  has led to new and cool events and new and cool experiences.
But there's one thing that pisses me off beyond no other.  That is the Coffee Shop Negro.  I've spoken about this genus of negroid before.  Let me explain what the CSN is.  Primarily you can spot one very easily.  He's sitting in your local mom and pop coffee shop or breakfast spot.  He has a dingy t-shirt with some weird picture and a blazer over it.  His hair is usually wild and frayed.  His jeans are skinny and a little torn at the bottom. His sneakers are dingy chucks. This pompous cornball is most likely blogging about whatever his little condescending heart desires.  He's the type that prefers the company of all the other hipsters moving into the neighborhood rather than the Natives.  He didn't support Winston's West Indian food spot until it closed down and became Jerry's White Owned Pizzeria.  He's the type that sits with his legs crossed like a cultured white woman and tries to reassure you that he could have gone to Duke but chose to stay local at Brooklyn College.  Look around. The Coffee Shop Negro is the pepper dot in a salt shaker at bars in Williamsburg.  His chameleon skin blends in so well but he's torn inside.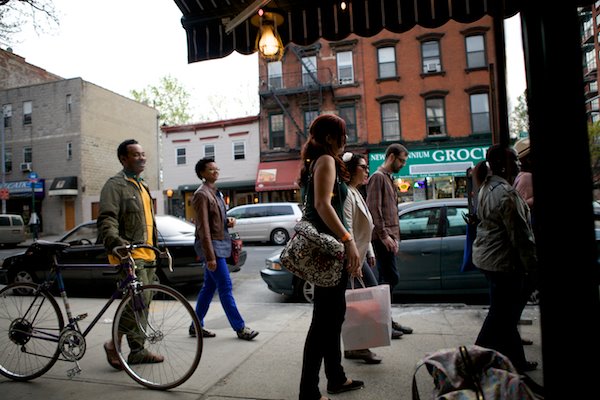 Williamsburg is the new Manhattan. Bed-Stuy and Crown Heights is the new Village and Brooklyn Heights is the upper west side.  The new inhabitants are walking their dogs at 2am while listening to their iPods. Fulton Street has an H&M, American eagle and a Gap. THERES A BYOB PIZZA SHOP ON THE CORNER OF MY MOTHER'S BLOCK, FOR CHRIST'S SAKE!!  While Brooklyn continues its facelift (and skin bleach) the natives or as I like to call them, Black people, are slowly being driven out.  THE RENT IS TOO DAMN HIGH!  The hipster brigade, the Coffee Shop Negroes and the Hopeful 20 Some things are here to stay.  Can we cohabitate with their kind? Or will we be driven out, to the south and most likely be enslaved again? Don't become slaves my people!
Jelani , The Bearded Douche